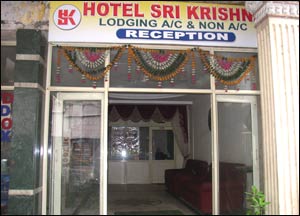 To strike a balanced, cautious note, and in the spirit of objectivity, we state that Sri Krishna is, very strictly, budget accommodation. With budget underlined. Twice. Only lion-hearts on a shoe-string budget should venture in, or those desperately in need of lodging, never mind its conditions.

And onto the conditions. At the reception desk, you will be greeted by a friendly staffer, and a horde of overweight mosquitoes vying for your blood. If you miraculously avoid being bitten by any, then watch out for cockroaches - they fly too, they bite too. Some are dead. We are still not sure if that's a good thing.

You will, in all likelihood, step over a few bodies (save the hysteria - bodies of cockroaches) as you make your way around the ground floor, or up the staircase, towards a room. The rooms (there are 60) are, to put it kindly, basic. You get what you pay for - a bed/beds, a TV with cable, a few pieces of furniture, a simple bathroom (whose apparent cleanliness we will not question).

Clearly, frills are few and far between (and we are not referring to the tobacco-stained walls, or the stink that pervades some of the rooms) at Sri Krishna.

Here's how the hotel's tariff card reads: A single bed room costs Rs. 290, a double bed room Rs. 450, a three cot room Rs. 550, a double A/C Rs. 750, and a suite Rs. 850, plus taxes. Apart from these competitive rates, you don't get much else at Sri Krishna; it has no restaurants attached, although a neighbouring restaurant will deliver a South-Indian tiffin to your room if you want to order-in.

The only thing that Sri Krishna Lodging has going for it is its prime location; the lodge is a kilometer from the Nampally railway station. That said, it is avoidable. Steer clear, especially if children are accompanying you, or if you are a lone woman traveller.
EVENTS AT SRI KRISHNA LODGING
There are no events at Sri Krishna Lodging scheduled currently.