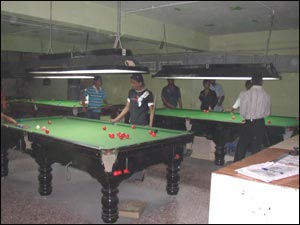 Located in the basement, next to a car garage, Triangles definitely has its appeal and its special clientele. It's sad that the appeal is drowned in exhaust fumes, but hey, you come here to make a few pockets, not to breathe.

With an even litter of tables, two for pool, one French and one English, Triangles is big enough to be pleasantly crowded and small enough to not feel empty. There's an air-conditioning duct that runs through the length of the ceiling, and is usually switched on when someone passes out from the fumes next door.

So why does anyone come here? The answer has to lie in the fact that every area has its little sweet spots. But man, is there room for improvement.