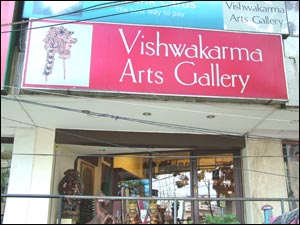 To get a glimpse into the opulence of Indian art and craft, one would have to visit Vishwakarma Art Gallery. Its brochure reads 'A Homage to the Artisan', and indeed, it is.

Started by Krishna Kumar for his father, the late Ramaiah, former Director of the Regional Handicrafts Design Center, this art gallery began as a tribute to a man who was a connoisseur of art. Ramaiah was instrumental in bringing to light many crafts such as the tribal and folk crafts of Andhra Pradesh and Madhya Pradesh, particularly the Bastar Dokra craft.

The art gallery is named after Lord Vishwakarma, the celestial architect who created the Indraprastha mansion of the Pandavas. It is divided into two separate galleries, one almost 5 times the size of the other, and both within 100 yards of each other. Their door handle, which is an exquisite brass elephant head, could be the epitome of the place.

Even though these galleries sit right amidst the buzz of the city, they can make you feel quite bucolic deep down. For, every piece of art that you see here is bought directly from the hands of its creator. Different teams from Vishwakarma Art Gallery visit various parts of India each year, in their quest for more novel forms of art. And one remarkable difference from the other art galleries is that there are never any middlemen involved.

The array of relics available at Vishwakarma is stupefying: brass idols, wrought-iron figures, objects made of terracotta, Kalamkari work, Bidri-work dress material colored with vegetable dyes, Rajasthani patchwork and, lastly, incense sticks. These are the more rife ones.

Some of the more striking artifacts you would get to see here would be Khatiyans (Rajasthan), Tanjore paintings (Tamilnadu), kundan enamel work, meenakari work (Varanasi), dokra castings (Bastar), Pondicherry leather bags, Pud paintings, photo albums made of handmade paper, Kinal work (Karnataka), idols made of white sedal wood, intricately carved wrought-iron lamps, a huge treasure chest, wood and glass center tables, an excellent replica of the painting on the Sistine Chapel by Michelangelo, and something called a Cherial Mask (from the districts of Andhra Pradesh), which is a mask of a 'grama-devata' used exclusively in 'yatras'. The sheer expanse of the work leaves you pondering about the toil that would have gone into all of this.

But in all the magnificence surrounding you, some things begin to seem very incongruous. For example, amongst the Meenakari work, some glass pyramids between exquisite Pud paintings; a few Plaster of Paris figures (like the regular ones at an Archie's) scattered here and there; some Auroshika natural oils lying on an intricately carved table; some plastic-metal tambourines... can you even stomach the thought anymore?

The point without too much pussyfooting is that when you think about the riches that lie here, their presentation will begin to seem like mayhem. So much so that after a while you will even secretly try to reorganize the entire store.

But don't be flabbergasted if the owner comes up to you and sweetly explains what art form it is that you are trying to move, and from which part of India he procured it. And, all the while, he is gently entangling the piece from your hand and placing it back where he thinks it rightfully belongs. For, at Vishwakarma, though the customer is considered the aficionado, and though he is always treated deferentially, this deference is always with a pinch of self-worth.

As long as you don't mind seeing the most beautiful thing in the most inapt place, this gallery will be a delight for your artistic side. And the prices of the artifacts, a relief for your realistic side.

Go, ahead. Pay your respects to Lord Vishwakarma.