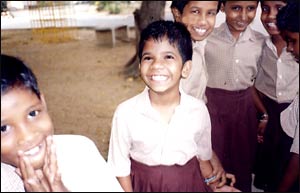 Background
August 15th, 2006. Independence Day is being celebrated all over the country, and as you walk into Ashray Akruti, there is a patriotic current in the air. Independence Day holds an additional meaning for the students of the Little Angels School for the Deaf. For them, the school spells independence from society, from gadgets and crutches, and from caretakers, and represents a step towards leading their own lives as independently as any other member of the community.

Run by Ashray Akruti, a voluntary organization working for children with hearing disabilities, the Little Angels' School For The Deaf promotes oral communication for the deaf children who attend it, rather than teaching sign language, which makes them dependent on this form of communication.

"We are not against sign language, we just do not teach it, as we feel the students should be no different from the rest of society of which they are an undeniable part," says D P K Babu, the Secretary of the organization, who showed us around. "Sign language gives the deaf an avenue to form their own closed community, and hinders their mingling with outsiders."

Although the deaf children are allowed to be with others like themselves in this special school, they are made to realize that they will ultimately have to be in a society of people who are not all hearing-impaired.

Activities
The school takes in hearing-impaired children beginning from the age of 3, upto the 10th standard. The media of instruction are English and Telugu. The mode of education relies on visual aids and posters for assistance in teaching.

At the younger stages, children are first given speech therapy and hearing aids along with the regular academic curriculum, and soon learn to speak normally. As they progress to higher classes, the students are on par with the regular syllabus.

The 10th standard students are coached for the impending Board Exams as rigorously as in any other school, although they have special consideration in the exam. The Secretary feels that even without a lower passing mark for the deaf, his students would do just as well as those from ordinary schools. This fact is proven when, in spite of a holiday, the coaching continues. Those appearing for the Boards have no excuse to slack off.

Extra-curricular activities such as crafts and projects have also been introduced, although outdoor activity is somewhat restricted for safety purposes.

Volunteer Opportunities
The organization is completely voluntary, and takes a nominal fee from students who can afford it. Others are taught free of cost. The cost of upkeep is maintained by generous donations from philanthropists and corporate sponsors, as well as independent donors, who donate funds or sponsor a child's education.

But more than monetary contributions, the Little Angels' School requires volunteers who can work with the children for honorary pay. At the moment, there are 25 specially-trained teachers for a strength of 130 students. More volunteers are always welcome, as they like to maintain a very close student-teacher ratio.
LEAVE A COMMENT
fullhyd.com has 700,000+ monthly visits. Tell Hyderabad what you feel about Little Angels' School For The Deaf!