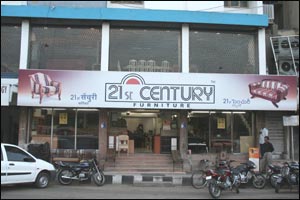 When you have a large area to play around with, the trick is in not looking like a furniture warehouse. 21st Century deals with this problem by scattering its huge floor space with enough artefacts and accessories, which makes the browsing quite pleasant.

Lamps, and tables carved and inlaid with metal, even pearl, punctuate the line of cabinets, beds, dressing tables, wardrobes, dining tables and sofas. They even carry some arty looking jhoolas in metal.

21st Century also makes furniture on order. Browse their catalogues if you are not quite satisfied with the range on display. If you're thinking of decorating, refurnishing or even just accessorising, the store offers a good range, though whether the prices are affordable or not depends on whose money you're spending.
LEAVE A COMMENT
fullhyd.com has 700,000+ monthly visits. Tell Hyderabad what you feel about 21st Century Interiors & Furniture!