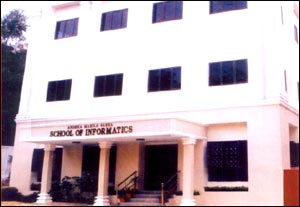 The Andhra Mahila Sabha college buildings are a maze. You pass by a literacy building, a dome shaped seminar hall and old fashioned bar-grilled windows along the corridors before you enter the swank new School Of Informatics. This one stands out with shiny steely letters announcing the name, although another step inside and the deserted look and fresh cement dust all over kills the liveliness a little.

There are holidays aplenty at AMS, but when classes are on, the 75% attendance rule ensures the girls associate blackboards, droning lecturers and writing chairs with college life. Not the canteen, though. The canteen of AMS has such a reputation that most students have not even visited it yet. Also, you have to find the way first.

The games' and sports' interest isn't that brittle, though, with the basketball, tennikoit and volleyball courts, as well as facilities for indoor games, being posed continuous questions about their capacity. Luckily, the PG students are often too busy to take part, and leave them to the undergraduates.

An IT meet Adhyayan is held once a year, and invites speakers from major Hyderabadi corporates, who also come back for placements. These are Satyam, Cardis, Magnaquest, Cognizant etc., and, on an average, pick up 20%-30% of students between themselves. The M. Com. section, for its part, organises frequent seminars on topics like goal-setting, communication skills etc. And placements are much more general with even Doordarshan picking some of the girls here as Telugu newsreaders.

The most striking thing, however, is this - Andhra Mahila Sabha, after all these years of its existence, remains true to its name. The student population is all Andhra, and as a rare occurrence, girls come here from bordering states like Orissa and even more rarely, as a super-freak occurrence, from as far as West-Bengal. AMS therefore is an Andhra culture haven for most girls from Telugu medium backgrounds, who feel completely at home here.

The labs are well-equipped and the faculty has the approval of the girls, and this 45-year-old college, started as a vision in women's liberation by Dr. Durgabai Deshmukh, looks like it is going to go strong for many more years to come.
LEAVE A COMMENT
fullhyd.com has 700,000+ monthly visits. Tell Hyderabad what you feel about Andhra Mahila Sabha Arts & Science College For Women (PG Branch)!