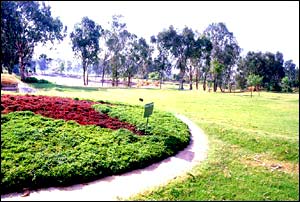 Be warned that every tourism brochure speaks of the Gardens as they are soon-to-be. What is planned, how many acres of what plant and how many species of what rock. Plus, how the meadows roll, the willows whistle and the palms sing. And it's all happening in the next few months. Definitely, by the end of this year. Only 'this year' refers to anytime between now and 2020.

So you might be a little disappointed when you first visit this faraway park. It's not the last word in verdant wonder, but once your spirits are nice and mellowed, you'll stick around for longer than you expected, just walking around, squinting at the little signboards, and cooing back rudely at the birds (it's not so damn musical when they do it all the time).

There's a place for everyone here. The children gravitate toward the small pond for the boat-rides, couples prefer to loll about on the lawns, and others shuffle around in the limited confines of the park, spotting new varieties of shrubbery. Not exactly spine-tingling excitement, but it's nice for a couple of hours.

The Botanical Gardens are work-in-progress, and there are many big things coming up. Of them, the garden of scary delights (not the official title), the cacti zone, and an underwater plant zoo, sound promising. Watch a Venus Fly-Trap gobble fleshy insects, and suddenly the fare at the Gardens' dim little caf won't seem so bad. And once the Kothagudem National Reserve expands to include a wildlife and bird sanctuary, you'll have more to do than just nod drowsily against a rock.

Right now, however, the Gardens are mostly just a large area of green. Toss a frisbee, watch the fountains leap (you'll have to ask the nice watchman to turn it on first), or just chew on a blade of grass and contemplate the burdens of your care-worn city life from a nice safe distance. Not so bad for 10 bucks.
LEAVE A COMMENT
fullhyd.com has 700,000+ monthly visits. Tell Hyderabad what you feel about Botanical Gardens / Sri Kotla Vijaya Bhaskar Reddy Botanical Garden!