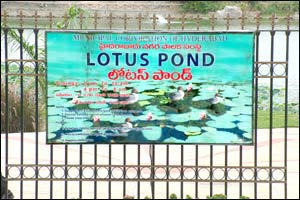 Just as you're lamenting the fact that one doesn't get to see any birds any longer thanks to all the pollution and noise, a little known pond is developed into a beautiful park, with a conscious effort to keep it as natural as possible. And yes, the birds are obliging.

Lotus Pond is tucked away in a corner of Jubilee Hills, and you need to make your way through the maze of confusing lanes of the residential colonies to get there. Once you do, though, it's pretty much worth it. In the midst of the park, as the name suggests, is a lotus pond. You don't see them throughout the year, of course, but when it's the right season, you get to see a proliferation of lotuses, the way you thought they looked only in Japanese paintings. If you look carefully and patiently enough, you can even see the fish.

This pond is surrounded by a carefully cultivated ecosystem, with a walkway laid out in stone, one that is punctuated by a patch of well-maintained lawn, a bridge and a hut-like vantage point. All along the walkway there are pictures of the birds you might get to see, along with a bit of information on them.

No, it's not Bharatpur, and it's not going to be anytime soon, but it will do. It's a wonderful experience to take a walk here. Alternatively, you could just sit and watch the birds.