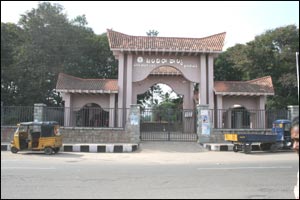 Indira Park is one of those places that everyone's heard of and been to, but never talks about. Maybe it has to do with the fact that parks don't really vie for a place in a dinner conversation. Still, Indira Park is one of the oldest parks, if not the oldest park, in Hyderabad. With a lake that it calls its very own, the park has a very tranquil feel to it. That's what parks are supposed to do, in case you were wondering.

The renovation in the late '90s did quite a bit for its appeal - with stone and gravel paths crisscrossing the entire length and breadth of the park, Indira Park is now quite a hit with the morning walkers and joggers. It also has swings, seesaws and other outdoor game facilities for children.

The place is also very popular with the resting people due to its staggering amounts of grass. Come afternoon, and you find large and small clusters of humanity, liberally sprinkled all over the park. Some sleep, some have picnics, and some just run around in wild abandon.

A nice place for that walk or early morning jog, and the boat ride here ain't that bad either.