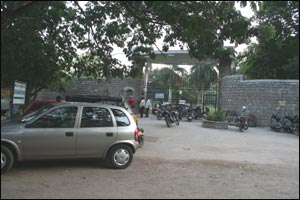 It's very easy to take the wrong turn when you're going to Chacha Nehru Park: it's in a bylane, and the board on the main road is so rusty, there's a chance you'll miss it even if you are looking for it. And a wrong turn may not be very pleasant, for it takes you to the park alright, but it takes you to the backside, where there is a gate that is seldom used. And understandably so, as there's a semi-open drain running right alongside, with a smell that makes you nauseous if you stand there long enough. At first, you just want to abandon the idea of going in.

But once you locate the front entrance, which is actually quite simple to find by the way, it's a different story altogether. Chacha Nehru Park has a perfectly manicured lawn landscaped into dunes, with ample space for walkers as well as those who want to play something like badminton. Even if you simply want to loll around on the grass, you're most welcome.

The good thing about Chacha Nehru Park, if you're considering a regular stint as a morning walker, is that you can get a monthly pass made at the gate for Rs. 20. It may not rank very high in terms of birdwatching, as it's in the midst of a crowded urban area, but it may work in providing a temporary relief from the same. There is also the regular amusement set up for children - slides, swings, see-saws, et al. The only concern is that these are all towards the back. Now if only the drain were to be covered up completely...
EVENTS AT CHACHA NEHRU PARK
There are no events at Chacha Nehru Park scheduled currently.