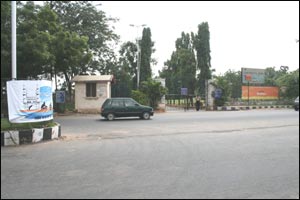 It runs a long distance along the edge of the Hussain Sagar Lake, Sanjeevaiah Park. As you enter, the first thing you're tempted to do is to walk to the railing on the left, and look at the lake for a while. There are moorhens, close to the shore, black, with a white Mohican-like stripe across their heads. Are you disturbing them? Well, if you look around you, you might get the feeling that indeed, you're invading privacy here. The park is famous for certain kinds of rendevoux, and the entire city knows that. But walk on.

Sanjeevaiah Park is one of the oldest and largest around, having reached a stage, you'd be inclined to think, where it becomes self-sustaining. A part of it is being remodeled, but then, as most people remember, some part of it is always being remodeled. Spread over a vast area, the park has more than enough space for those who want to relax on the lawn, or play a while with a Frisbee. Then there is the path cut out for the walkers, which there are plenty of. This walkway is the ideal way to see the park, as it makes a complete circle, almost like a guided tour of the patches of landscaping, the amusement park for kids, the canteen and the tennis courts. And all this under the shade of some ancient trees.

There aren't too many animals around, save some stray dogs. No peacocks marching across the pathway either. In the winters, though, you get to see large flocks of migratory birds near the water, occupying practically every branch of most trees around. That's not something you'll get to see anywhere else in this concrete jungle.
EVENTS AT SANJEEVAIAH PARK
There are no events at Sanjeevaiah Park scheduled currently.