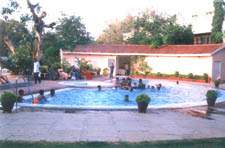 Catering largely to the three most endearing pastimes of the typical Hyderabadi - drinking, eating and playing cards - Family World has a nice homely ambience without being too cumbersome on the billfold. Besides, if you rope in two friends to sign up along with you, you will be elevated to Privileged Member status.

A unit of Shiv Shakti Resorts, the club is independent of its better known neighbour, Tulip Manohar. The facilities here include A/C and non-A/C card sections, a banquet hall with a seating capacity of 3,000, independent catering, a huge dhaba, a swimming pool, plus a fair amount of reasonably well-maintained lawns and other open areas. The gardens with a nice fountain and stream must make this a pleasant place to lounge about in summer.

Our verdict? Family World is a good deal for the budget-conscious club-goer. And given its large and friendly clientele, this is a good place to hang out, and maybe even pick up some tips on the Malakpet derby.
EVENTS AT FAMILY WORLD CLUB
There are no events at Family World Club scheduled currently.