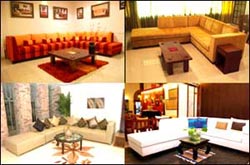 This furniture store is a franchisee of the eponymous flagship store in Bombay. While there is not too much merchandise on the shop floor, it is because you mainly shop here via its extensive catalogues. Colonial Collections specializes in creating high-quality custom furniture made exclusively in Bombay and shipped to Hyderabad. This does push up the cost somewhat, but the quality of the products seems to be undeniably first class.

Vandana Shete, who manages the store, is knowledgeable and helpful, and has been in the furniture business for many years. She assures you that not only will meticulous attention will be paid to the line, form, detail and comfort aspects of your pieces, but also, delivery schedules and project budgets will be adhered to. With all this personalised care your furniture seems to be getting, you begin wondering if that mollycoddled sectional sofa actually has something you don't.

All said, Colonial Collections caters to the needs of those who are looking for exclusive, customized furniture built to last.
LEAVE A COMMENT
fullhyd.com has 700,000+ monthly visits. Tell Hyderabad what you feel about Fern House - Colonial Collections!