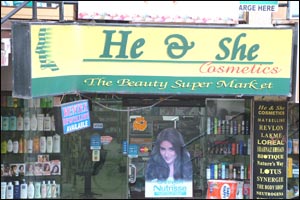 If you agree that the circle of life begins to spin early, you'll also agree on the basics of surviving the chakra - Botox, Botox and Botox. But this wrinkle-banishing treatment is not a very glamorous option - in fact, it could be dangerously pricky after you end up paying for it. So God created other outlets, namely a horde of medium-sized shops stocking the general trivia for the betterment of the body and the face, if not the mind.

He 'N' She is like any other shop, but with the addition of a good many representatives trying to make profits for their own employers, such as Lakme and Revlon. Other than them, the store has an enormous collection of shampoos, conditioners, hand and nail crèmes, body and face scrubs, sunscreen lotions and makeup bases.

Its array of beauty-care products includes brands like Bodyshop, Nivea, Jergen's, Intimate (USA), Freeman, St. Ives (Swiss), Nature's, Johnson, Dove, Vaseline, L'Oreal, Rainbath and Oil Of Olay, and shampoos and conditioners from Flex, L'Oreal, Finesse and Pantene.

Toiletteries and lotions from Natural's, Shehnaz Hussain, Old Spice, Palmolive, Biotique, Himalaya, Ayur, Godrej, Garnier and Aroma Magic, and perfumes from Lacoste (UK), Tommy Jeans, Hugo, Dior, Poison, Calvin Klien, Nina Ricci, Azzaro, Udy Blue, Harly Davidson, Gucci and Benetton Sport are also placed within your tempting distance.

At He 'N' She, the prices are not a steal, but credit must be given for bringing a truly global portfolio of beauty products under one roof.