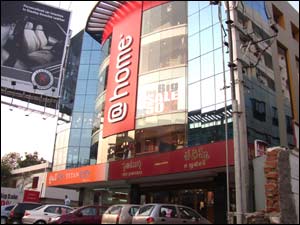 We live in an age where there are mega malls for every product category, and furniture stores have mushroomed in the twin cities like flies over an ointment. However, there are only a few that make you feel at home. This one, aptly named @home, is one of those.

To the uninitiated, @home is an exclusive line of home furniture, furnishings and accessories launched by Nilkamal Ltd., a leading name in molded furniture and material handling systems. A one-stop-shop for everything your home needs, the store has everything from furniture sets for each room in your house to cushion covers, vases, lamps, curtains, candles, photo frames, dried flowers, coffee mugs, tableware and wall finishes.

The 1st floor is divided into two sections. The first one at the entrance is elegance exemplified, with collections of stunning Indian and imported accessories including curios, antique showpieces, decorative items for the dining table, designer table clocks, and many wonderful decor accents.

The second is a brightly lit children's bedroom section. Among the best features of @home are the settings in which the furniture is displayed, and it is best experienced here. Single beds shaped like F1 cars and fire engines, and bunker beds shaped like double-decker buses, seem right out of Alice's Wonderland.

With wares starting at Rs. 10,000, these guys give you reason to believe that designing a room for your children is no child's play. Another interesting item in this section is a bunker bed with a study table underneath, all in a single piece of ergonomically designed furniture priced at Rs. 48,000. It is a small price to give your child the luxury of sleeping on his homework, literally.

The second floor is dedicated to dining room furniture. Prices range from Rs. 10,000 to Rs. 50,000 for dining sets and shelves. The variety is something that can leave you awestruck. This humble reporter couldn't even afford to look at the prices, let alone buy the furniture.

The third floor, which is dedicated to bedroom furniture, is simply marvelous. In fact it gives you a good idea of what kinds of wall paints match your furniture. Well, anybody who can afford to spend over Rs. 1,00,000 on the bed, side tables, a dressing table and wardrobe (excluding the clothes that grace them, of course) can surely spend a few more thousands to paint his wall. @home has a politically correct nomenclature with king-size and queen-size beds at a relatively modest Rs. 17,000 while the single beds start at Rs. 8,000.

At the top floor, which displays living room furniture, the prices hit the roof! At Rs. 68,000 you can pick up a pop art inspired sofa set. The simpler designs are more affordable at under Rs. 20,000. The astonishing range of living room furniture, from benches to recliners, wall units to loungers etc. will certainly draw your attention.

"Home is where you can say whatever you feel like because nobody listens to you anyway," goes a cliched quote. And it applies to many home furniture stores too, but @home is an exception. The staff must be credited for the splendid service they offer. Not only are they knowledgeable, they also seem highly qualified. They are definitely smart enough to present to you their number-crunching skills, and don't be surprised if they offer to help you file your returns. While answering your queries, they are as certain as your taxes.

To sum up, you need to visit this store with a budget in mind. Carrying your calculator will surely help. As a matter of fact, pulling along a Chartered Accountant to help you with your finances may be better.