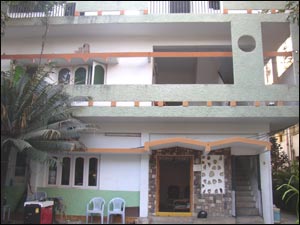 Ah. Every community has its legends. The man with the map to its destiny. The man who you get to follow. The man whose actions define right. The French had Napolean. The Mongols had Genghis Khan. The Nazi Aryans had Hitler. The 15-year-olds of Hyderabad have Ramayya.

For over 2 decades now, Ramayya's IIT-JEE coaching classes have been giving to their wards, the rest of their lives. With a track record unparalleled in the rest of the country, the man has been regularly ushering 65% of his students into the IITs each year. It helps him that he takes very few of them - about 150 each year. It also helps all those coaching classes who provide tutoring for his entrance.

The name Ramayya is synonymous with several words in Hyderabad. For starters, you don't say "Ramayya", you say "Ramayya sir". Even if all other lecturers in college can be "vaadu" and "gaadu". Other words Ramayya stands for: "education", "IIT-JEE", "Telugu", "Nazi Concentration Camp". The 20+-year-old coaching center is the premier institute that prepares teenagers for the IIT entrance examination. Ramayya himself teaches Maths, and three other lecturers, Madhusudhan Rao (Chemistry), Surendernath (Physics) and Koteshwar Rao (Maths again), handle classes too.

Actually "IIT Study Circle" on paper, the institute is lovingly referred to as "Ramayya Sir's" by thousands of Telugu families, who regard him as the very Personification Of Knowledge On Earth. Last heard, close to 9,000 children appeared for the Study Circle's entrance examination that trains only 150 students.

Now for the fun part. It is an open secret that children are harassed within those walls and that crude language is used on boys and girls alike. Classes begin as early as 4:30 in the morning, and late-comers are made to stand outside the whole time. All in the name of "discipline" and "good-intentions", they say. Parents either bull-doze their children to or away from joining the institute. The kids as usual are stuck in the middle with none to bother about them.

As we all know, the world starts and ends with an engineering degree. And a 15-year-old's day, at 4:30am.
LEAVE A COMMENT
fullhyd.com has 700,000+ monthly visits. Tell Hyderabad what you feel about IIT Study Circle (Ramayya's Classes)!