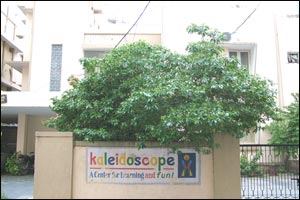 Endangered if not extinct, the art of book reading is being resuscitated through some ardent attempts by a few concerned Hyderabadis. With wholehearted support from local moms, Kaleidoscope is working hard to induct your children into the worm-brigade. With a library consisting of books for both adults and kids, in full bloom, Kaleidoscope now also offers after school facilities for kids.

Kaleidoscope is a place where you can find both books and wisdom for your child. The children can participate in interactive group sessions, develop communication skills, and watch interesting and informative TV and video programs. There are also computers that children can use, for learning math or playing games.

The library is replete with books on Management, Philosophy, Health, Mythology, Computers, Encyclopedia, General Knowledge, Romance and Current Affairs. There is a well-furnished section for best sellers (Sidney Sheldon, Robin Cook, John Grisham, Stephan King, Frederick Forsyth, Robert Ludlum etc.) and prize-winning books (Gunther Grass, Arundhati Roy, Paulo Coelho etc.), as is there for classics and comics. Agatha Christie, Charles Dickens, P G Woodhouse, Oscar Wilde, Jane Austen and Emily Bronte adorn shelf upon shelf, as Tintin, Asterix and Noddy do the rounds in the well-appointed cupboards.

The children section has books by Alfred Hitchcock, Enid Blyton, Carolyn Kneen, Ruskin Bond and R K Narayan. Not surprisingly, there is also the entire collection of Harry Potter, Famous Fives, The Three Investigators, and books by Robert Jorden.

And all this for a deposit of just Rs. 600 which includes Rs. 100 as the running balance. Depending upon the author and the cost of the book, the reading charges are between Rs. 2 per day and Rs. 10 per day. But most of the children's books fall in the Rs. 2 category. You can take around two or three books at a time.

The after school activities center includes a room for music classes, a games room, a computers room and a small playground. There are loads of games, both board and CD, and will keep the child happily busy and learning. These activities start 3.00pm and go on to 7.00pm on weekdays, and are entertained between 9.00am to 1.00pm on Sundays. Depending upon the number of hours that the child spends, the cost can come to around Rs. 15,000 per month.

For an additional cost, the children can take music lessons (guitar and keyboards) on Tuesdays and Mondays, and drawing and painting classes on Wednesdays and Fridays. Both the programs entail a monthly fee of Rs. 400 each.

Creating space and time away from their Cartoon Networks and 25kg school bags for your kids, Kaleidoscope is letting them grow a little wiser, everyday.
EVENTS AT KALEIDOSCOPE (LIBRARY)
There are no events at Kaleidoscope (Library) scheduled currently.