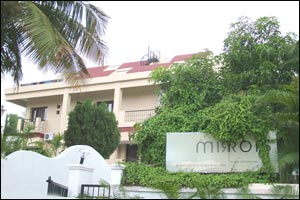 An image you will cherish forever, their baseline reads. Well, I don't know about the image in the mirror, but the image of their astonishing exteriors definitely stays.

Designed like a resort and spanking clean, Mirrors belongs to Vijayalakshmi, whose claim to fame is the work she once did for producer Ramanaidu. Hence her clientele, even today, are mostly actors and politicians; a ballet of Page 3 and beauty.

Another image that you will surely carry back home will be of yourself moaning in delight and patting yourself on your back for your excellent choice of service. Before you get any ideas, let me explain. This is the only beauty parlor in the entire state where thigh massage and foot reflexology are offered. And they are carried out by the maestro herself, Vijayalakshmi. She was trained at Tony And Guy, and deems her parlor's specialties as pedicures and haircuts.

Before you get here, you had better fix an appointment, for you do not want to stride in on somebody else's time. More importantly, it is mighty embarrassing to obtrude upon someone when she is at her weakest, most pleasurable moments. Also, it is very prudent to freeze time for yourself when you are frittering Rs. 650 away on it.

The most atypical part about Mirrors is the Exclusive Section, where you can fantasize being Cleopatra. And you can rest assured that you will be indulged. Meant only for one person at a time, this place is pure delight.

And you don't have to shell out too much for all this luxury. Their haircuts cost Rs. 100 - Rs. 150. A babycut would cost about Rs. 60. And the exclusive foot reflexology costs about Rs. 650.

And anyway, how can you ever weigh money against the experience of paradise?
EVENTS AT MIRRORS BEAUTY PARLOR
There are no events at Mirrors Beauty Parlor scheduled currently.