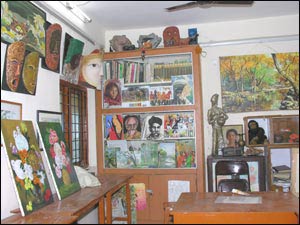 An artist forsaken by the world in his old age, trying to spread his light by teaching little children. That is the story of P R Raju.

Starting from lines and curves, the 77-year-old man gradually teaches the children the art of watercolor paintings. He is assisted in this task by his first son Narendra Nath. They insist on calling their classes 'hobby classes', and no other name will do.

It is a very becoming sight to watch the father and son paint away, along with their little followers. The students are in the age group of 5 years to 15 years, and are full of unspent enthusiasm.

The duo even hold a summer camp for a month to 5 weeks during the months of April and May for a meager sum of Rs. 500. These classes are held 9am - 11am, and 3pm - 5pm, thrice a week during these 5 weeks.

An excellent artist with over 50 different styles of paintings to his credit, Raju feels a lot of indignation against the Govt. of Andhra Pradesh for not encouraging art in the state. In a teeny-weeny nook of the city, he does his bit in the best way that he can to overcome this disadvantage. It pleases him that in the process, he is able to steer the children's creativity and concentration. Gently reassuring them of their talent and teaching them the skills to discipline it, the old man hopes he will one day live his dreams through his students.