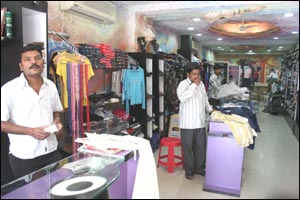 When you stumble into Rock 'n' Roll you wonder what curse of fate brought you here. If you think we exaggerate, check this place out for yourself. And this is definitely not some reverse psychology advertising gimmick. We value our users here. Unlike Rock 'n' Roll. Who use zero Quality Control. But then again, if they did, what would they sell?

Which brings us to the merchandise here. In a word - ugly. And relatively heavy on the pricing. The place houses apparel, accessories and footwear for men and women. Brands like Coppertone, Tulip, Carbon, Citrus, Capture, Freedom, YLC, Flare, Exile, Spykar and Diesel can be had here. What? Diesel? In India? This is where the store manager intervenes, and with a sleight-of-hand puts the clothing away and mumbles, "Bangkok Diesel." In other words - con job.

The wear comprises of Jeans in lightweight and ordinary denim, and two-toned, stretch, sandblasted, ring and corduroy denim. Other stuff includes T-shirts, tops, skirts, jackets, trousers, capris, shorts, shirts and tracks. The merchandise is priced between Rs. 250 and Rs. 1,695.

Rock 'n' Roll also retails hats, bags, belts, footwear and wigs. Yes, wigs! Wigs coming out from hats, wigs in bright fluorescent hues, and wigs of various lengths. The place has two trial rooms, and its ceiling looks like a goop-bomb exploded all over it.

Rock 'n' Roll also offers in-house alterations as an added service to its customers. Or whatever it is they'd like to pass off as some.