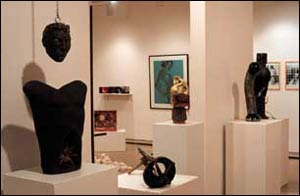 The idea was to work and to tend to her little daughter at the same time. And the arrangement is working grandly, both for Sarita and her sales.

In her petite apartment, Sarita has stocked everything from embossed works, Madhumani (folk art), Tanjore paintings, Rajasthani paintings, watercolors, acrylic paintings, designer mirrors, Jharokas, stained glass, glass paintings, Bengal School paintings and Raja Ravi Verma copies to paintings of mixed media. It is a feast for the eyes, an anthology of colour and genius.

Other than this spread, she also houses her own abstracts and originals, which cost Rs. 3,000 onwards. For those of you who believe only in your own creative genius, Sarita also offers paintings made to order.

Sarita's specialty is something she has named the Vaasthu Ganesha, which she makes on logs. This is her own creation, and if what she says is true, it sells like hot cakes. These were first created by her in Calcutta and carried on to Patna, before they were brought down to Hyderabad.

A rapacious follower of Feng Shui, Sarita has instilled all its tenets into these Ganeshas. And you could buy them for a song; a song worth Rs. 250 to Rs. 2,000. The benefits: it brings in positive energy, makes your home more peaceful, makes relationships easier to deal with, and, most importantly, can get you one up on your pesky neighbor.

The lady believes in distributing her talent not only figuratively, but also intellectually. She conducts courses in painting 10:30am to 6:30pm, Monday to Saturday. The courses are charged depending on the size and the type of the paintings. Her regular courses in 3D painting cost Rs. 3,000 for 3 types of paintings, and in oil painting, Rs. 4,500. All the courses are inclusive of material.

So as you see, there is more than one way of stepping out of Sarita's door a more content person. Try it.
EVENTS AT SARITA'S INHOUSE ART GALLERY
There are no events at Sarita's Inhouse Art Gallery scheduled currently.
LEAVE A COMMENT
fullhyd.com has 700,000+ monthly visits. Tell Hyderabad what you feel about Sarita's Inhouse Art Gallery!