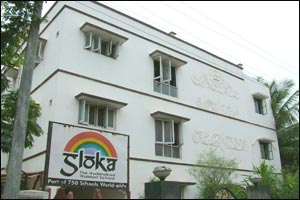 Sloka follows one of the best and most refreshing philosophies for educating children in all of India. To give the child a complete and holistic growth and learning is, perhaps, a gist of the Waldorf philosophy. It basically comprises giving the student a broad-minded, creative and courageous outlook, coupled with a strong understanding of the subjects taught. Phew!

Sloka, a Steiner school, belongs to the 75-year lineage of these sturdy education institutions. Like any other in the 850-strong Steiner string of schools, Sloka too has the similar creative, off-the-beaten-track and open-minded outlook on how to make children whole human beings.

With highly interactive classes, the children are given a lot of space to grow as independent individuals. The school has a good number of extra-curricular activities that stimulate the artistic and imaginative side of every child. With plays, recitations, dances etc., the school gives the children much to enjoy and learn from.

The striking feature in Sloka is that of the remedial teacher. As is explained by any of the staff members, this is for the children who have difficulty in speaking, writing, reading, spelling or math, or lack in spatial awareness. For 20-25 minutes each day, spanning over 6 weeks, the remedial teacher works with the child. The main aim is to build confidence in the child by choosing very carefully planned out exercises which are therapeutic and fun.

At the nursery level, the children only get to play, sing, eat and celebrate festivals. At the kindergarten level, they are prepared for the informal way of education. It centers on puppet shows, singing, story-telling, rhymes and an open interaction with the teachers and classmates.

Grade classes, at the outset, incorporate poetry, speech, music, Math and English. Farming, building, art etc. are taught along the way. You can now understand why they incessantly say that this school is out of the ordinary when it comes to teaching. To them, the child is important. All else comes after.

All parents should keep in mind that getting a seat in this school is not only through an application. Sloka goes beyond that. You will have to visit the school, understand their philosophy, interact with the teachers, and bring your child here to see if he/she likes it. It will be a truly personalized, intimate experience if you choose to put your child in here.
LEAVE A COMMENT
fullhyd.com has 700,000+ monthly visits. Tell Hyderabad what you feel about Sloka - The Hyderabad Waldorf School!