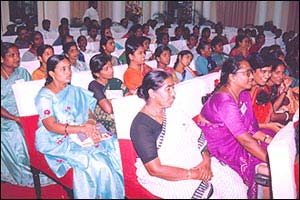 Background
The Society For Elimination Of Rural Poverty is a Rs. 600 crore World Bank funded project that was set up in 1991 with initiatives spanning 6 districts. The Rural Poverty Elimination program, aptly titled Velugu (meaning light), positively affects the rural population in 6 districts and 180 mandals across AP. Velugu reaches a staggering 2.5 million women to meet its objectives, and envisages expanding the program to 500 more mandals in the future.

Velugu has "people catalysts" with it. Its mission is to empower the poorest of the poor to overcome social, economic, cultural and psychological barriers through self-managed people's organizations.

The SERP office closely resembles a bustling government office, and is spread across 2 floors of the building. However, there is a method to the bustle here, and it becomes apparent that an organization of such magnitude would warrant mountainous paperwork.

Although the staff usually have a lot on their plate, they are very helpful with information on their activities. Don't be surprised if you leave the place with a stack of brochures in one hand and helpful website links in the other!

Activities
The major groups targeted by Velugu are Dalits and other backward classes, women, tribals, child laborers, migrant laborers and differently-abled persons. The key program objectives include creating employment opportunities, infrastructure development, health and education, income generation activities, and food security to the poor.

Volunteering Opportunities
If you would like to intern or volunteer with the Society, you could contact T Vijay Kumar at the office. Careers at SERP are advertised for in the local newspapers, so do keep an eye out for any openings.
LEAVE A COMMENT
fullhyd.com has 700,000+ monthly visits. Tell Hyderabad what you feel about Society For Elimination Of Rural Poverty!