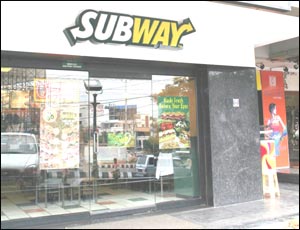 Yet another indication that the average Hyderabadi doesn't mind shelling out the big bucks for a good meal - even if it's mostly raw veggies. What is strange is that you'll find yourself asking for extra helpings of all those things you'd otherwise wrinkle your nose at - lettuce, tuna and the like. Your mother would be quite proud.

Even though any of the subs would make for a good breakfast, Subway does have a morning special menu, consisting mostly of eggs. Try the egg with cheese, bacon or Smoked Chicken Ham. Team that up with a Frappe, Iced Tea or even Tomato Soup. Or get a smaller sub, the Deli Sandwich, which is good with fillings of Turkey Breast or Tuna (only Rs. 40).

You'll find some really fresh bread in options like Wholewheat, Italian, Parmesan Oregano and Honey Oat. But picking the bread is the easy part. After a painful fifteen minutes of deciding on one kind of sandwich, you have the tougher battle of peering through the glass case and picking exactly what you'd like in your submarine.

The most repeated choices for vegetarians are the Hummus & Falafel, the Spicy Veggie and Garden Pizza Sub, which is easiest on the pocket at only Rs. 40 for a six-inch. Non-vegetarians have a tougher time deciding, and they usually get the extra-cheesy Subway Melt, the Spicy Italian, or the Chicken Paprika from the Classic Subs; the yummy-as-sin Sweet Onion Chicken Teriyaki and the divine Honey Mustard Smoked Chicken from the Select Subs; and the Turkey Breast, the Subway Club or the slightly more economical Chicken Sheekh Kebab (Rs. 60) from the Basic Sub menu.

Subway has a whole lot of exotic sauces and flavors like the Dijon Horseradish, Red Wine Vinaigrette, Asiago Caesar and Honey Mustard. If you'd like to try any of the mouth-watering combos at home, you can also buy the sauces here. For a lighter but equally satisfying snack try their salads, of which the Roasted Chicken Breast and Corn And Peas are very good. They tend to go heavy on the jalapenos, so if you don't like your salad too spicy you might want to ask them to hold off. Salads are available in Caesar, Vinaigrette or Mayonnaise Dressing.

You'll also find some sexy desserts here - the cookies, in particular, are highly addictive. Try the Oatmeal Raisin or Chocolate-Chip, and see if it isn't love at first bite. Another absolutely sinful mouthful is the chocolate-laden Devil's Cake.

Subway is a great place to visit when you're on a punishing diet and need the kind of TLC that only a healthy, yet thoroughly delicious meal can give you.