Sundarayya Vignana Kendram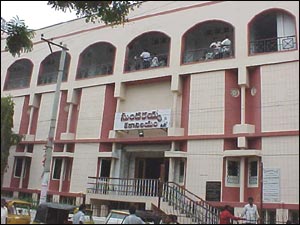 Many of us know it because of orientation seminars given by CAT coaching centers. But Sundarayya Vignana Kendram does much more than that, really. The center is well-favored for college festivals of all kinds, and is typically filled with young people. It's another big favorite for corporate programs, seminars and conferences, when professionals sit around and discuss the events that shape our financial destiny and downfall. All while partaking of free lunch.

Now we have an anecdote for you, one that serves as a testimony to the closeness with nature that the Kendram enjoys. One day, during an orientation programme, in the middle of an impassioned speech about golden futures, a crow flew in the window. He glided in smoothly, deftly dodging the ceiling fan's murderous revolutions, but the effort was too much for him. He died in mid-flight (it happens to the best of us) and landed on a subsequently shrieking girl's lap.

There is no real point to this absolutely true story, of course. Except that you never know what the future may hold. Oh, and the Vignana Kendram has a very good sound system, ideal for inspirational speeches. Just keep an eye on the window.
SUNDARAYYA VIGNANA KENDRAM SNAPSHOT
Listed In

Address

Telephone

Email

Distance

Website

Seating Capacity

Air Conditioned

Rent

Year Started

Closed On

Prices

Payment Option(s)

Closest Bus Stop

Closest MMTS Station

Add New Field:
LEAVE A COMMENT
fullhyd.com has 700,000+ monthly visits. Tell Hyderabad what you feel about Sundarayya Vignana Kendram!