Tarakarama 70mm (Kachiguda)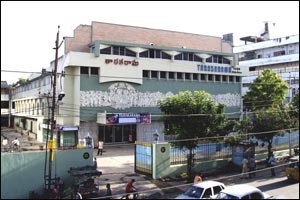 What can you expect out of a theater that plays porn movies? Naked women? Hirsute men? Good value for your money? Maybe. But if you're expecting all of this from the theater, then what are you expecting from the movie? Great air conditioning?

So let's get our priorities right. A movie's gotta do what a movie's gotta do and a theater's gotta do what a theater's gotta do. We know that, but how will the movie and the theater know that? They don't have grey cells. At this end neither the movies nor this theater are very bright.

Revived fresh after the fire accident with Barsaat, Tarakarama just kept sliding down the ladder after a promising start. The trademark stone sculptures on the outside look prehistoric, and so does everything else.

But somehow it still shows signs of its old self. The once pellucid screen and the once-in-a-while-working air conditioning do bring back old memories. With a bit of proper maintenance and cleaning up, it might still be a decent theater.

Until then, Tarakarama remains vague and unnoticed beside its more competent counterparts, Maheshwari and Parameshwari.
TARAKARAMA 70MM (KACHIGUDA) SNAPSHOT
Listed In

Address

Telephone

Distance

Seating Capacity

Air Conditioned

DolbyDTS

Tele-Booking

N

1 user says this is wrong.

Year Started

Timings

Closed On

Prices

Rs. 35, Rs. 25, Rs. 15, Rs. 10

7 users say this is wrong.

Payment Option(s)

Closest Bus Stop

Closest MMTS Station

Add New Field:
LEAVE A COMMENT
fullhyd.com has 700,000+ monthly visits. Tell Hyderabad what you feel about Tarakarama 70mm (Kachiguda)!