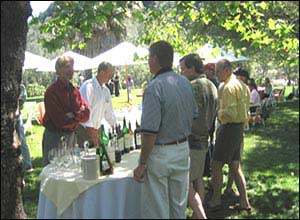 The Wine Club of Hyderabad is not as hedonistically motivated as it sounds. And if it is, it manages to conceal it very well with its knowledgeable discourses on the health benefits of wine. From explaining in detail about the phenolic compounds in grape skin to quoting studies that say that 'moderation and regularity' in drinking wine is better than teetotalling, their website is a rather scientific tribute to wine drinking. And the 27 strong club has a majority of doctors as members, driving home the point rather effectively.

The 2-year-old club was started by an engineer, Balaji Rao, after a period of in-depth research into wines. His inquisitiveness was sparked off by a meeting with another wine-buff in 2001.

The clear-cut list of objectives of the Wine Club today is impressive. They want to do everything from bringing the wine culture to Hyderabad to lobbying for giving wine the status of a health drink. Ahem.

The club meets about once a month in painstakingly planned parties where exotic wines are tasted and compatible foods are enjoyed. Rao's fervent enthusiasm for wine makes him the driving force of the club.

But the meetings are no bacchanal orgy like most of us would imagine. Instead, a neat and polite little crowd gets together for an exclusive dinner at a swanky restaurant. They eat, drink and make conversation about the relative merits of the exquisite wines that they are fortunate enough to sample.

From French Chablis and Chardonnay to Chilean Tierruca Merlot and Carmenere, the rarest of wines do the rounds here. The accompaniments are so fastidiously chosen, it seems like the experience would be ethereal. For example: Off Dry Sula's Sparkling, matched with Chinese Dim Sum, Chicken Sivmai and Chicken Twin Pepper followed by Chicken Coriander thick soup. The reason being that the sweetness of the wine lessens the effect of chillies, at the same time lifting flavors with its bubbles. The racy Chilean Sauvignon Blanc (Valdivieso) is another good alternative for the same soup, adding an additional grassy herbal touch to the soup.

While the party crowd might have its own reasons to join the Wine Club, it's the epicure with an almost intellectual appreciation for wine who will freak out here!
EVENTS AT WINE CLUB OF HYDERABAD
There are no events at Wine Club Of Hyderabad scheduled currently.