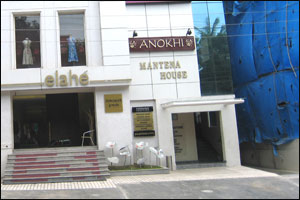 Rose pinks, terracotta browns, indigos and lots of white... the colors reminiscent of Rajasthan's awesome cities and sunsets come alive in Anokhi, a store that almost exclusively trades in block prints from Jaipur.

You can find light, cotton, airy kurtas, tops, skirts and duppatas priced between Rs. 350 to Rs. 800. While the prices might seem steep for everyday cotton, it might do to remember that these clothes are sourced from Delhi and Jaipur, display a fine range of very contemporary and unusual cuts and finishes, and are, in fact, not quite everyday.

The shop also stocks a range of menswear, bed linen, cotton bags, and North-Indian 'batuaas'. There are a few saris for sale, too, beautifully done in cottons, raw silks and jute, with jewelry to match, which is of course for sale separately.

Anokhi is an easy place to shop with its quietly humming, efficient air-conditioners, and a great stock of well-designed, contemporary, block-printed wears and bed linen.