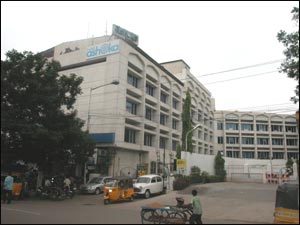 Living under the shadow of Hotel Centaur might have been hard for anybody else, but Hotel Ashoka like the warrior it's named after, is keeping up its defenses without lowering its standards. The lobby is full of the daily bustle, and it might revive images of a railway counter where you spent a day's sweat hassling the clerk. But once you are taken to the floors above, the sight of the clean and well-swept floors, and tastefully decorated rooms, will reassure you.

Ashoka has centrally air-cooled rooms, priced at Rs. 700 for single, and Rs. 800 for double. A/C suites are available at Rs. 980, while non-A/C rooms will cost you Rs. 500 (single) or Rs. 600 (double). There is a conference hall available for Rs. 1,500, which can seat around 100 people. The roof-top marriage hall is spacious, and gracefully opens onto the terrace.

The Sterling restaurant serves both South-Indian and North-Indian, veg and non-veg dishes. It also sports a bar. If you are not put off by the seedy entrance and the over-crowded down-to-the-basics reception, you are in for a good deal here.
EVENTS AT BEST WESTERN ASHOKA
There are no events at Best Western Ashoka scheduled currently.