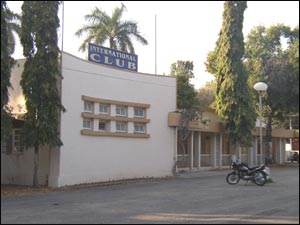 BHEL International Club is a lot like a school building whose patrons have taken a liking to other, less erudite pursuits. It is also a lot less. Filled with small cubicles with weather-beaten doors, the club won't rock your entertainment world, but the fact that the place still provides a recluse to the PSU employees is pleasurable in itself.

Exclusively open for BHEL employees, it offers some indoor games like table tennis, carroms, bridge and snooker, and outdoor sports like basketball, cricket and lawn tennis. The club also has a gym, recently fitted with a few machines like cycles and a treadmill, and it remains open between 6am and 12pm in the mornings, and between 6pm and 9pm in the evenings.

There is a very active library with a librarian well versed in Telugu, English and Hindi literature. The library can be used between 10am and 12pm in the morning, and between 6pm and 9pm in the evenings. On Saturdays, there is a film screening.

The BHEL International Club also has an indoor badminton court, which forms part of district level selections and games. The lawns, which form the inner core of this rectangular building, are well-spruced and ready to be leased out to members on the payment of Rs. 5,000. The hall, which previously housed the Ambrosia restaurant, is also available on a rent of Rs. 2,000.

There is also a swimming pool, and a 1-hour dip in it costs Rs. 100 to members. The students are given a concessional bargain at Rs. 20 per month for the summer. Attached to the club are a tailoring shop and a beauty parlor, which are open to the general public between 10am and 6pm.

The club does not qualify as a retreat or even warrant a loyal traffic. Everything from the dilapidating structure to the rusting equipment strongly reeks of 56 years of over-exploitation of government funds.
EVENTS AT BHEL INTERNATIONAL CLUB
There are no events at BHEL International Club scheduled currently.
LEAVE A COMMENT
fullhyd.com has 700,000+ monthly visits. Tell Hyderabad what you feel about BHEL International Club!