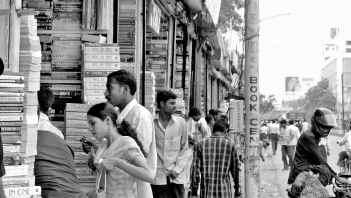 At first glance, it appears so compact that it seems to be overflowing with books. It then boasts of having just about any book you can ever imagine. That's Book Lovers / Koti Book Market for you. Tiny and abundant.

While we write this (year 2006) MCH ordered for a shift of Book market into the basement of a walkway beside Andhra Bank.

This market has truckloads of books for MBA and MCA, model papers, and medicine and science and technology books. But don't get fooled into thinking that these are the only material possessions of theirs. The young boys at the shop will run in the hot afternoon, fight the heavy traffic, rush across to their 'godown' and fetch any other book you want. Name the novel/author you want, and you've got it. In fact, you'd be surprised at the efficiency with which these boys work. In case they cannot find the ancient Don Quixote in their godown, they'll even suggest which shop will most probably be the best to forage at.

Lately, though, the owner says there is a great demand for 10th class and Inter guides and textbooks. He has stacked up large numbers of ICSE, CBSE and SSC guides which he sells at reasonable prices. All it takes is some bargaining power and intent for purchasing in the customer, as he himself declares.

This shop is indeed a treasure-trove and a must-visit. With a warm service and a large collection of books at throwaway prices, this store will truly make you a book lover.
LEAVE A COMMENT
fullhyd.com has 700,000+ monthly visits. Tell Hyderabad what you feel about Book Lovers / Koti Book Market!