Galaxy 70mm (Toli Chowki)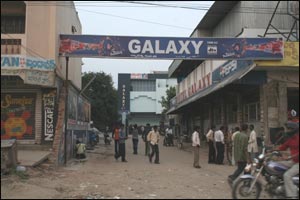 Author's Note: This particular disgruntled fullhyd.com employee may or may not have outsourced the following write-up to his 14-year-old cousin.

Cool man… Like our exams were over and all. I kinda did pretty okay, but the best part was that they were all over! Woohoo! And what else? Yah... our holidays had just begun, and we wanted to freak out at our grandmom's place near Tolichowki. It's a nice place like all cousins and all. It was a Sunday, so the roads were nice and clean. There was no traffic, and my brother drove the car. Luckily no policewallah caught him for driving without a license... lol. After meeting up, we wanted to catch a good movie. Tolichowki was very far away from our houses. So, my uncle suggested we go to Galaxy theater to watch a movie.

Galaxy is nice, re! We thought it was going to be all boring and all inside. But it really kicks ass dude! You know, you go inside and see this really really big cinema hall with the AC on always (unlike other theaters in hyd... LOL!) The audio system was neat, and when the actors are bashing all the bad boys with their dhishoom-dhishoom, it kinda gets real loud. I also saw red carpets and good tiling on the floor.

In the interval you know what happened? We kinda went and bought ourselves some tasty French Fries and popcorns from inside the theater. Like I was so shocked man! They sold French Fries, dude! Oooh!!! My daddy told that it was a clean place, and scolded me for throwing the popcorn just to show it wasn't so...!

Also saw a lot of elder people and students from nearby colleges. Didis and bhaiyyas came full-smartly dressed in Jeans and T-shirts. But only thing is that the theater is far away from our house or else I would have gone regularly. I really want those living nearby to go and visit this theater. It is cool, yaar!

Editor's Note: The writer concerned has been promptly fired from service. However, since the inept data entry operators didn't report this rubbish to the editors, it is a bit too late to make amends. Kindly wait another 2 years for the next write-up.
GALAXY 70MM (TOLI CHOWKI) SNAPSHOT
Listed In

Address

Telephone

Distance

Seating Capacity

Air Conditioned

DolbyDTS

Tele-Booking

Year Started

Timings

Closed On

Prices

Payment Option(s)

Closest Bus Stop

Closest MMTS Station

Add New Field:
MOVIES AT GALAXY 70MM (TOLI CHOWKI)
There are no movies at Galaxy 70mm (Toli Chowki) scheduled currently.
LEAVE A COMMENT
fullhyd.com has 700,000+ monthly visits. Tell Hyderabad what you feel about Galaxy 70mm (Toli Chowki)!