Amaravathi 70mm (Lakdi-ka-Pul)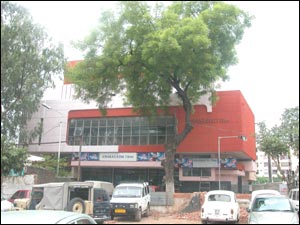 An old senti-film favorite and a theater for even sophisticated crowds of the region, Amaravathi now caters more to an in-between audience, i. e. the massy-class or the classy-mass. With regular film changes, the theater is looking to please fans of all the major Telugu heroes. According to the management, second and third releases of the Big 4 heroes of Tollywood always run to full houses.

The seating is very cramped, and the hard seats are sure to hurt your booty. The air-conditioning is pretty decent, if you get to find out - they hardly switch it on. And the screening hall lacks ventilation. If you have high standards, you'll also realize that the audio and visual quality is far below average. Having high standards is defined as wanting to face the screen while watching the movie.

The snacks are affordable, which is the only thing the theater has going for it. The parking lot is a big downer, with barely any place to accomodate a full house. General cleanliness is lackluster, and the toilets could use some serious help. The entrance to the theater is easy to miss if you aren't alert.
AMARAVATHI 70MM (LAKDI-KA-PUL) SNAPSHOT
Listed In

Address

Distance

Seating Capacity

Air Conditioned

DolbyDTS

Tele-Booking

Year Started

Timings

Closed On

Payment Option(s)

Closest Bus Stop

Closest MMTS Station

Add New Field:
MOVIES AT AMARAVATHI 70MM (LAKDI-KA-PUL)
There are no movies at Amaravathi 70mm (Lakdi-ka-Pul) scheduled currently.
LEAVE A COMMENT
fullhyd.com has 700,000+ monthly visits. Tell Hyderabad what you feel about Amaravathi 70mm (Lakdi-ka-Pul)!