Siva Parvathi 70mm (Kukatpally)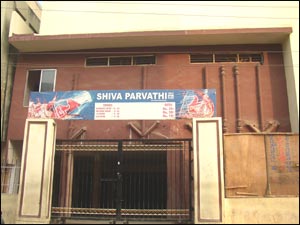 Completing the triad of the theaters on KPHB Main Road is Siva Parvathi. It is another of those theaters that would have been really popular if only they had been located in a more central place.

Normally screening Telugu flicks that are given an open run, Siva Parvathi has a projection and sound system that offers you a great movie experience. As if it were not hard enough to choose the better one among its neighbours, this theater makes it an even more arduous task to select the best among three. It has comfortable seats, good legroom, and an ambience that makes you feel very welcome.

Plus, there are umpteen chaat bandis in the vicinity where you can indulge your taste buds after you've satisfied your ocular senses. And what makes it different from any other place with chaat? In KPHB, rates at chaat bandis are always lower than those anywhere else in the city. Take that from a veteran.

In all, one theater where there is more to the experience than just watching a film.
SIVA PARVATHI 70MM (KUKATPALLY) SNAPSHOT
Listed In

Address

Telephone

2305-7840, 2305-2789

19 users say this is wrong.

Email

Distance

Seating Capacity

1283

5 users say this is wrong.

Air Conditioned

DolbyDTS

Tele-Booking

Year Started

2001

1 user says this is wrong.

Timings

Closed On

Payment Option(s)

Other

Closest Bus Stop

Closest MMTS Station

Add New Field:
MOVIES AT SIVA PARVATHI 70MM (KUKATPALLY)
There are no movies at Siva Parvathi 70mm (Kukatpally) scheduled currently.
LEAVE A COMMENT
fullhyd.com has 700,000+ monthly visits. Tell Hyderabad what you feel about Siva Parvathi 70mm (Kukatpally)!