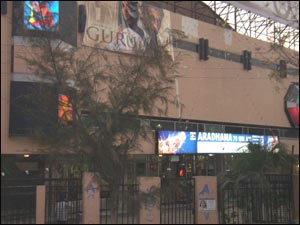 Aradhana has three things going for it at all times - its location. Okay, theoretically that's only one thing, but practically, that's another thing. Also, we forget how to count every time we visit this theater. Let's tell you why.

First, the seats. In all fairness to the management, seats are meant for you to sit on. Now why would you want to do totally unnecessary things like trying to move, be comfortable etc.? If you want to move your legs, join a circus or something. You've come to watch a movie here, not move.

Then, the watching part. Aradhana has a high quality screen and projection lamps. That's for all of 4 minutes till the show starts. After the newsreel, the movie might look a bit blurred.

Lastly, the loos. You are advised to hold onto your bladder rather than venture into one of those things they call toilets.

The only one in the area to screen the latest flicks, Aradhana has emerged a winner out of a fading phase of theaters. So watch a movie here to relive an experience that was cutting-edge, many many years ago.
LEAVE A COMMENT
fullhyd.com has 700,000+ monthly visits. Tell Hyderabad what you feel about Aradhana 70mm (Tarnaka)!