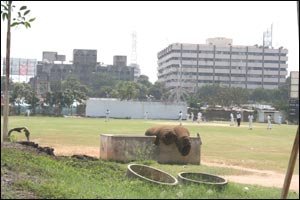 Maintained by the Hyderabad Cricket Club, the Gymkhana Grounds provide a level playing field for both the national and the league matches. They can ideally seat around 2,000 people, and otherwise accommodate 5 times that number. Meaning, any number of sports enthusiasts are welcome to find perching ground on the trees, the walls, and the roof-tops of the stands. They don't charge you even if you are respectfully, and more importantly, comfortably seated. A security check is the only damper that you might face here.

The stadium is open to clubs and private teams for practice, on a monthly charge of Rs. 10,000 per team of 18 or 20 players. Private parties can also hire the grounds for their one-day matches, at a price of Rs. 12,500. There are 220 clubs affiliated to the Hyderabad Cricket Association, and the Association is responsible for organizing and scheduling the league matches between them. There are around 15 matches held every year to churn out local talent, which is then propelled to the Ranji Trophy and the Duleep Trophy matches.

The grounds are also the proud owners of a gym, worthy of being graced by the national-level players who tour Hyderabad - it is well-equipped with all the necessary fitness paraphernalia. In addition to the pitch and the main ground, there is a vast area devoted to net-practice. The playing field is well-trimmed and maintained according to BCCI standards.

But that is where the standards end. The offices, store-rooms and rest-rooms are shabby, and make you nostalgic about the good old days when cricket was cricket. You might even become nauseous if you breathe long enough near the practice pitches - the stench coming from an open naala which forms the backwaters of the place is quite overpowering. But then, it's all in the game.
EVENTS AT GYMKHANA GROUNDS
There are no events at Gymkhana Grounds scheduled currently.