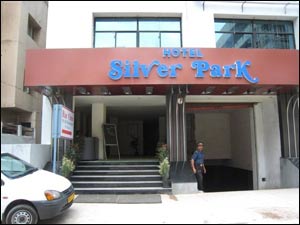 A recent addition to the already rampant number of hotels from the Swagath group dotting the cityscape, Silver Park is the latest entrant in the Rs. 1,800 to Rs. 3,000 range of places to stay at. The Swagath Group seems to have monopolized the Ameerpet area with its 4 hotels, to suit varying budgets, all within walking distance of each other. That they may be on to a good thing, or are at least on their very determined way, seems to be apparent.

Silver Park is set slightly off the main road, but within spitting distance from a major cinema house (be warned though that this particular cinema house shows mostly regional films), one of Hyderabad's famous midnight biryani places, shopping opportunities to make most people happy, and easy access to public transportation.

Besides the location, the hotel has 3 banquet halls of various sizes, 68 rooms of two categories, and even a Silver Suite. The suite has a decent sized room with an attached toilet, and an adjoining living space which comes with its own toilet, providing more options to the accommodation needs of the not-for-business traveler. The other rooms are fairly sized and befittingly done, equipped with most of the facilities offered by other hotels in this price range.

The place attempts at a more modern look with its abstract wall art, subdued lighting and non-flowery room decor. And while it manages to retain its utility ratings irreproachably, there isn't much here that says "Hyderabad", besides, of course, the staple, gentle service that is the city's hallmark.
EVENTS AT HOTEL SILVER PARK
There are no events at Hotel Silver Park scheduled currently.