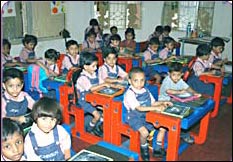 Situated in Habsiguda, Johnson Grammar School (founded by S R N Mudiraj) has been around for quite some time. It's an ICSE school, co-ed, and starts from the KG level.

Like all schools in the world, Johnson strives for the best possible development for its students. It has the regular hobby clubs (debate, drama, elocution and music), arts and crafts, and sports (mostly ball games like football). The spotlight in this school, however, is only over the high quality of education that is provided. With very experienced staff (some with 15 years of it), the students are in safe hands.

Notable achievements about Johnson? A very high passing rate of students in their examinations. About 70% of the students of the school pass out with distinction. Another meritorious moment in the life of this school is that in 1998, it became the very first ICSE school in Hyderabad to be awarded the prestigious ISO 9002 certification.

An added bonus is that it has a hostel. No meager cost for it from what we've been told (Rs. 25,000, payable in 3 installments), but an advantage nonetheless. Some of the children wear piqued looks when it comes to the food, but are quick to accept that the accommodation and warden are more than just good. Giving them enough space to study, and with neat rooms, the hostel can be considered by the parents.

The dedication in the teachers can be noted by the keen knowledge they have over their subjects. As a teacher has rightfully claimed, it is difficult to open a student's mind to the ICSE form of syllabi. It requires the student to understand the subject, not memorize it. Hence the teachers ensure that the students grasp the concepts in each subject thoroughly.

The students, too, are just as hard-working and committed. None of the students has anything to complain of the school, excepting maybe that they do, indeed, have very high standards to achieve. They do sometimes tire from the rigorous studying involved before the exams. But then, don't all children get stressed out during that time?

Given the indisputable strong hold over academics, Johnson is indeed deserving of belonging to the cream of schools in town.
EVENTS AT JOHNSON GRAMMAR SCHOOL
There are no events at Johnson Grammar School scheduled currently.