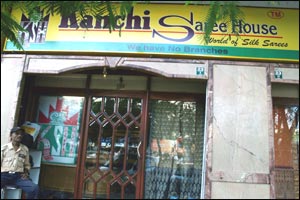 What can't you do without if you are getting married? We mean other than the guy, though he might not always take precedence, especially when you pit him against a killer wardrobe?

In business since 1982, Kanchi Sari House has been a one-stop-shop to generations of women who have always wanted the purest that the zari industry has to offer. For good reason, too. It stocks the finest Kancheevaram silk saris. They might come with a hefty price tag, but hey, you get married only once!

Kancheevaram saris apart, you would also find your regular dose of Gadwal, Benaras and fancy embroidery saris here. They actually have their own manufacturer. So that means you will get the quality that you desire. On the flipside, though, since you are most likely not going to find the same stuff anywhere else, they get away with running absolutely no discounts at any time of the year.

Okay, they do give you 10% off on saris worth over Rs. 4,000 grand and 5% off on those priced lower. They also supplement that with complimentary beverages (strictly of the non-fermented kind). Although for what you have to shell out, a parking valet would be a nice addition.

To sum up, it is a good place to shop for the woman looking for something traditional to adorn herself with.
EVENTS AT KANCHI SARI HOUSE
There are no events at Kanchi Sari House scheduled currently.