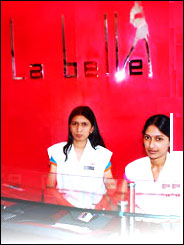 Spotless floors and manicured receptionists greet you as you enter the La Belle beauty clinic in Banjara Hills. This self-proclaimed No. 1 brand in beauty care wasn't exactly a household name until the familiar red and white billboards started sprouting all over town. Although started in 2000, La Belle's business seems to have picked up only in recent, beauty-conscious times.

La Belle, like its competitors, offers pay-per-weight loss programs, i. e. you pay for as much weight as you want to lose. There are even discount packages that border on the ludicrous - "Pay for ten kgs but lose fifteen!" and so on. But hey, if the mirror ain't saying you're the fairest of them all, La Belle will go all out to fool that darned piece of glass.

Beauty care at La Belle is divided into weight loss, skin care and hair care. With US FDA-approved technology at its fingertips and ISO 9001 accreditation, La Belle promises to keep unwanted hair at bay and get rid of troublesome acne. "Spots look good," barks a dalmatian from the cover of their brochure, "but not on you!"

Like at other clinics in the city, the staff at La Belle are trained to steer clear of all price-related talk. We can only guess from the plush interiors that customers leave La Belle lighter in more ways than one.