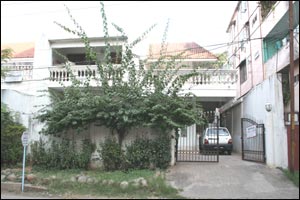 A bowl of handmade flowers, a Tanjore painting and a stained glass painting adorn the wall of her sitting room. The best part of being an arty person is that you can decorate your house with things that you have made. The second best part is that money flows in with art.

Though Meena Pamnani started her classes with adults, she was soon convinced by the bunch of fervent parents who came banging at her door, to shine her light over their little prized possessions too. So much for the flowery language. All of us who have been thrust into classes without the faintest idea of what lingers there, are aware of what those unfortunate kids must have gone through.

Anyway, such is life. Pamnani has about 40 students at a time, and charges them depending on the size and complexity of the piece she teaches them to paint. She also conducts a 1-1/2 month summer camp for kids. Here they learn to draw, paint and make crafts like greeting cards, picture frames and artificial flowers. This lasts for 5 days a week and 2 hours per day - 10am to 12 noon. She charges Rs. 800 for the classes. All the materials are given by her, and the students take back their end products. Pamnani also creates pieces of art to order.

The premises to work in are not too great, for it is bang in the dining room. I can already picture students clambering over each other to get fresh canvases, or fighting with each other for the new bottle of paints. I don't see any individual attention in a bunch of 20 pupils, all floating in the zest of creativity. And lastly, I don't see what a person could learn from doing one piece of art.

Anyway, these are the little adversities we all have to face in the higher pursuit of art. Meena Pamnani knows.
EVENTS AT MEENA PAMNANI ART SCHOOL
There are no events at Meena Pamnani Art School scheduled currently.
LEAVE A COMMENT
fullhyd.com has 700,000+ monthly visits. Tell Hyderabad what you feel about Meena Pamnani Art School!