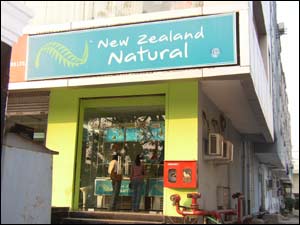 The New Zealand Natural outlet at Banjara Hills gives the phrase "hole in the wall" a new definition - 2 steps in any direction is a dead-end in this 100sft cubhole. Their justification is simple - it keeps people out. Well, maybe we did not phrase that the way they meant it - they are quite happy with people staying in their cars while they deliver, and so are the people given that the cars appear more spacious, so it's win-win.

Well, sometimes the hole is greater than the sum of the parts, and taken as a hole (okay, sorry already), what New Zealand Natural offers is much bigger than what you'd expect from the size. If you know anything about the brand, it specializes in ice creams (no, really), and almost the entire range is stocked in the small cuboid.

Yes, apart from the standard flavors like Vanilla and Caramel, there is the large selection of "Parlor Flavors" including Cappuchino (that's how they spell it), Boysenberry Ripple and Rum & Raisin, plus the fat-free Frozen Yoghurts and Non-Diary Sorbets. Priced at Rs. 36 - Rs. 45 per scoop, these also come in various mix-and-match combos like smoothies, sundaes, shakes and chillos, sometimes with a brownie or muffin thrown in. These usually cost upwards of Rs. 100 depending on how many flavors you choose.

If you've eaten at any of the Natural (not New Zealand Natural) outlets at Bombay, you know what to rate 10 on a scale of 10. Where does New Zealand Natural rate? We'll be polite and say that depends on you. There's surely a Baskin Robbins close to where you live. Okay, there ends our politeness.
EVENTS AT NEW ZEALAND NATURAL
There are no events at New Zealand Natural scheduled currently.