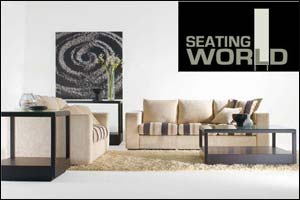 What is global seating technology and how does it affect mankind today? What is ergonomics and, frankly, why should you care? What is the relation between how you sit at office and which chair you occupy? This and other riveting questions are asked and answered by the enthusiastic lot at Seating World, a place for office furniture and general gyaan.

There's nothing really striking about the home furniture here; the sofa are a little too loud, and might actually derail conversation. But what the store lacks in home furniture, it makes up for in the office department. From chairs to tables to cabinets, there's a broad range on offer. The showroom has every type of chair you can imagine, and then some. The same with the computer tables and consoles.

Office furniture is sold here at pretty competitive rates, and home stuff should cost you anywhere from Rs. 17,000 to Rs. 1.5 lakhs (sofa sets), and Rs. 12,000 to Rs. 20,000 (dining table sets). But it might be a better idea to stick to office furniture; the world is not ready for violent orange sofas yet.