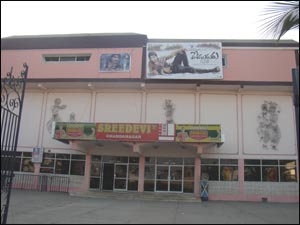 There is hardly any public transport facility to Sridevi, as it rests unseen in the bylanes of Raghavendra Nagar, BHEL. And unless you have your own transport or know the hall like the palm of your hand, better quit the movie plan and settle down for a roller-coaster ride in to the nearby Lingampally market instead. The market houses all kinds of duplicate maal - from cheap but artistic simulations of electronic gadgets to fresh vegetables and the perennial China bazaar offering any item for Rs. 20.

But in case you do know the location of this hall, then you would also be knowing that the movie playing would be one of the latest Telugu blockbusters, and that you have to reach there 30 minutes in advance or head back dejected.

Running a show for 3 hours without the hostile power cuts in this area is a mammoth achievement, and for fans, this is the prime reason behind choosing Sridevi over others. Otherwise, the predilection exhibited by viewers of the area for Sridevi is inexplicable. There is nothing inside the hall that would hold your attention for long, except for the loos, which hit you with a harsh odor of naphtalene, and the wash basins with their red polka dots. The seats aren't that grand, and the sound system does just enough to keep the movie within comprehensible range.

If Sai Ranga, Miyapur, draws full houses and you're stranded without tickets, a 5km ride back to Sridevi might not be an unfavourable option.
MOVIES AT SRIDEVI 70MM (BHEL)
There are no movies at Sridevi 70mm (BHEL) scheduled currently.