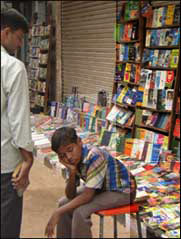 Nobody seems to agree on exactly how old the Sunday Bazar is. M R Bookstall (at the Bazar since '82) pegs it at around 35 years. Excellent Books (since '78) says it's closer to 25. The sleepy boy on the pavement says ten. It's safe then to say that the Sunday Bazar has been around for a long, long time. As far back as we can remember. People have bought books here for as little as one rupee. And the bargains are just as good today. Really, it's a mystery why anybody would buy books on any other day of the week.

The Bazar is a collection of small second-hand bookstalls, some of whom have regular outlets outside the Sunday market as well. The commercial complex that houses Hollywood Shoes on the Abids main road is where it begins, and the row snakes it way to the GPO. Even though they all sell everything from fiction to self-help, there are certain tips you could use on your first time at the Book Bazar:

1. Fiction-buffs head here: All the stalls on the inside of the Hollywood complex have a decent collection of novels, even for children. But if you're looking for something other than the usual best-sellers doing the rounds everywhere, visit Excellent Books (first one on your right when you step in from the Abids main road).

Apart from what seems like the entire Oprah Book Club series, they also have quite a few new and interesting authors you'd have trouble finding elsewhere in the city. Plus, some excellent editions of works by C S Lewis and other classics.

Sheldon, Cook, Asimov, King and the rest reside in the bookstalls on your right after you enter the complex from Hollywood. The store first on your left when you emerge from the complex into the Meena Bazar lane also has a small collection of novels by popular Russian authors, including Anton Chekov, Boris Pasternak and Alexandr Ostrovsky.

2. Coffee-table books: Right ahead of you, as you enter the complex from the main road, is M R's bookstall, which stocks a variety of beautiful coffee-table books on everything from Salvador Dali to gothic architecture. M R also has numerous recipe books, and a small set of hardbound Reader's Digest compilations. Also lying about are back issues of American and British mags like Esquire, Vogue, Glamour, Good Housekeeping and National Geographic.

3. Time, MAD, Esquire and other glad-mags: M R, as mentioned earlier, usually has a decent collection of phoren mags. But for vintage MAD, you have to brave the ripe odor of the inner bookstalls on your right after M R, and squint in the dark. It's usually worth it, though.

4. Text-books and other forms of mass torture: Big, fat books on everything from management to computer science to politics and gender, can be found at the on the pavement outside and opposite Meena Bazar. Self-help, Chicken Soup for everyone's soul, spirituality and autobiographies are also abundant here.

5. Novels for ten bucks: All the stalls starting from the Meena Bazar lane to GPO sell romance, sci-fi and general use-and-throw books for Rs. 10. Good for train journeys.

6. Vernacular reads: Again, the stalls along the Abids main road and leading up to the GPO have a selection of magazines and novels in Telugu, Urdu and even Marathi! Just about everything turns up here, so glance through these little stalls even if they don't look too promising.

That about covers it. But the collections do change with every ship that sails to the Mumbai coast, because that's where most of these bookstalls get their stock from all over the world. Random treasures to look out for are comics, which you'll find strewn about everywhere, including even mega compilations of Calvin and Hobbes, if you're lucky.

The only prequisites to enjoying the Bazar are patience and the ability to haggle shamelessly. Chat up the stall owner and he might even keep your favorite books aside the next time. Now doesn't that sound like the beginning of a beautiful friendship?
EVENTS AT SUNDAY BOOK BAZAR (ABIDS)
There are no events at Sunday Book Bazar (Abids) scheduled currently.