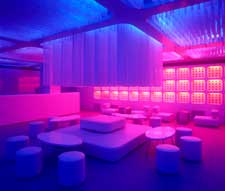 Why is it that when an actor - or 'film star' as we call them in these parts - opens a restaurant, you hear very little about the food at the place? Suddenly the most important detail becomes a mere incidental one. You're more likely to be asked who you saw at Touch, than what you ate. Sad, because your answer to the second is so much more interesting.

This, of course, doesn't mean you won't see any celebrities of note. One of the founding partners of Touch, actor Nagarjuna, was seen in the lounge with his wife, and a pretty starlet we might have eventually recognized if we hadn't been distracted by the arrival of our mocktails.

Touch is a lounge and restaurant, and the two are separated by glass so diners can have the best of both worlds. The entire restaurant is bathed in a reddish-pink light, long, white curtains billow ever so slightly, the dcor is mostly white and steel, and at the center of each table is a tiny pool of water with a few daisies and one candle floating on it. Contemporary chic to the hilt, but also very comfortable and undeniably relaxing. Hurrying through a meal here would be a crime.

Global cuisine is the specialty at Touch. And their menu is a pleasant surprise. There aren't a lot of sections, no tedious navigating through pages to find what you feel like eating. Just the appetizers, main-course and desserts, all in one compact menu. And considering there are only about ten dishes in each section, they've managed to pack in quite a variety of cuisines.

Of the four mocktails on offer, the coconut-cream and pineapple drink, Caribbean Colada, is the most divine. It's a good idea to ask your steward what he recommends, because the menu changes a little every time you visit. With your drinks, you're served butter and breads to keep you going till the appetizers get there.

A chef's special, the Touch Love Apple makes for an interesting starter, to say the very least. It consists of one solitary tomato, sliced and filled with herbed chevre cheese and basil oil. It's served garnished with Australian Wild Berries in syrup (compote), which is excellent and gives the dish much of its character. If you enjoy fresh seafood, you will like the Smoked Norwegian Salmon, served with triple sec dressing - over which you squeeze a fresh lemon, and salt-dried capers that save the dish from becoming too bland.

Unlike in most other places we're used to eating at, the starters here do barely more than whet your appetite. The portions ensure that you don't fill up before main-course arrives. Touch has a Specials Menu that changes every day, but if you want to try a dish someone recommended, you can ask to have it made even if it isn't listed. Like the Teriyaki Chicken, which is a large serving of herbed rice, with a leg of chicken marinated and doused in black sauce.

Pasta-lovers will thoroughly enjoy the Ravioli Of Spinach In Goat Cheese, which is stuffed with Popeye's veggie of choice, and smothered in cream sauce. Except for the pasta being slightly under-cooked, this dish is close to perfection. For something more exotic, try the Rosemary-Scented Pan-Seared German Duck Breast. This fantastic combination of flavors is put together with much attention to detail: sliced duck breast in sauce is served with sauerkraut, caramelized onion slivers, one lovely poached pear, and warm port wine drenching the entire mlange.

A dessert specialty of the house is the Chocolate Pudding, which is staid only by name. A small cake-like dish fresh from the oven, the sugar-dusted pudding sits there looking innocent till you slice it with your spoon, and then dark warm chocolate sauce gushes out in sinful abundance. It's quite good, but a real challenge after a full meal. If chocolate's not your thing, pick your choice of fruit pastry or cheesecake from the dessert-tray wheeled to your table.

Touch scores high on the novelty scale, and everything about it - music, lighting, dcor - is designed to enhance the dining experience. The food is presented impeccably, and looks good enough for a Vogue photo-shoot, almost too good to eat. Haute cuisine, if you will. And slightly less expensive than a trip around the globe.