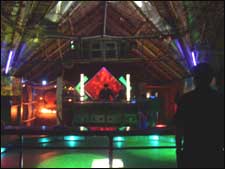 Not all Hyderabadis quietly go home when the city's pubs shut shop at 11. It's a well-earned Saturday night, and they're not going to let something as lame as a curfew dampen their high-spirits. If the next dance floor is 20km outside the city, then fill up the petrol tank and put on those party shoes - Treasure Island, here we come.

At least five minutes before you reach the disc, you'll spot the strobe lights, beating a tattoo on the night sky. First-timers to TI have been known to taken the wrong the turn and end up at Ocean Park, so these lights do more than just look cool.

TI has three separate dance floors (not counting the parking lot, where some whimsical party-monger decides, after an hour-long drive and a hefty entry fee, to switch on the car stereo instead and boogie under the stars). Ecstasy, a lounge-cum-disc, has recently been renovated to include a bigger bar and more fish, who, being prolific drinkers, are regulars at many pubs in town. Ecstasy is only for couples, unlike Karma, the other indoor disc, which is also used alternatively on Saturdays or when a guest DJ makes an appearance.

TI is most impressive, however, when it parties outside. The floor and the stage are simply huge, and the music system is good enough to distract you from the giant screen TV that beams your dancing image to all the people sitting at the sidelines. Videotapes of people dancing at TI are also sometimes screened on TV, so don't do anything that impressionable young minds should not watch at 3am.

Although TI is sometimes seen as a stag joint, it would actually be more accurate to call it a family hangout. For families that like to stay up really late, that is. Hyderabad has never been snooty about who it allows on the dance floor, but at TI everyone from a hyperactive 5-year-old to a smiling-but-mildly-embarrassed grandma gets down and boogies.
EVENTS AT TREASURE ISLAND
There are no events at Treasure Island scheduled currently.