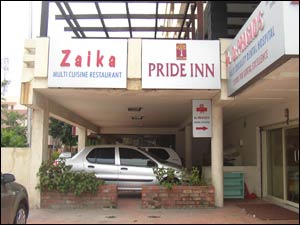 The Scene
For someone who goes up and down Road No. 14 regularly, Zaika comes as a bit of a surprise. Tucked away in an area that is mostly residential with an ample sprinkling of allied industry like the vegetable and fruit bandis, kirana stores and even an auto repair shop, Zaika seems a bit out-of-place.

However, the incongruity is left at the doorstep, for the restaurant, which is actually part of Pride Inn Guest Rooms, quickly dispels any untoward notions surrounding it. Done elegantly with an outdoor seating area as well, which actually very comfortingly overlooks a green patch, and with an extensive multi-cuisine menu, with steep prices to match, Zaika is very Banjara Hills indeed.

The Food
The food, while not exceptional, is very good, and delivers on both counts of quality and portion size. While the place is supposedly multi-cuisine, you would do better to go with its Indian fare. As is the case with most multi-cuisine places, the Chinese is often meted out the step-child treatment. This can be verified by the fact that the menu devoted to the Indian food is almost twice as long as the part for the Chinese. Not that this is conclusive evidence, but then, hey, there are hardly any guarantees in life.

The extensive but controversial menu notwithstanding, the standard Kadai Paneer, Kalmi Kabab and Butter Chicken, priced between Rs. 120 to Rs. 180, still rule. However, the Kheema Naan at Rs. 50 does look interesting, as does the Loose Fried Prawns, albeit for entirely different reasons which really have nothing to do with the morals of the crustaceans.

Other notables include a buffet breakfast, mostly for the convenience of the hotel guests, a listing with ordermonger.com for home deliveries, and no alcohol beverages.

The Verdict
Like we said, Zaika is very Banjara Hills indeed.