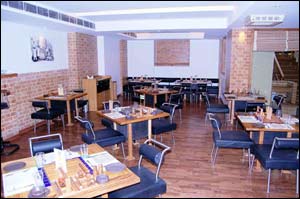 After a food poisoning case in Barbeque Nation sent chills down Hyderabad's foodies' spines, the restaurant now shows no signs of any such horror. The place is brimming with people, especially on weekends, when you have to reserve a table an hour ahead.

It's also extra-peppy, and actually so noisy we couldn't hear our own voices when we went there. Plus, when the staff ask you "How was the mocktail, ma'am?", and your reply is neutral and doesn't come close to "It was awesome!!", they insist on giving you something complimentary, even if you resist. We don't know how long this smothering goodness will last, but it sure is something they're doing right, for now.

And did we tell you the waiters do a 5-minute jig every couple of hours, with the music turned up real loud? Guests sometimes join in, and the whole affair is rather smile-inducing.

The food is served the same way it was. Kebabs and other starters are skewered on the grill fitted to your table, and these are what you ought to stuff yourself with.

The kebabs are made of mushrooms, paneer, seafood, chicken, mutton and potatoes. You usually tend to be too full for the main course, which is a buffet, and this is not something you might regret deeply, since the kebabs are just so worth it. The drinks keep flowing, to help you wash everything down.

Barbeque Nation is an expensive place to dine out, and also not very quiet. Head here if you have your expectations right, but do head here.
EVENTS AT BARBEQUE NATION
There are no events at Barbeque Nation scheduled currently.