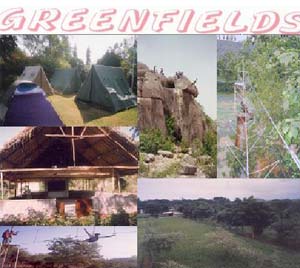 The horridly ugly ducklings, as is most often seen, end up turning into gorgeously beautiful swans. Every person has such dreams, and diaries choc-a-bloc full of phone numbers, just in case. The quest for that Pygmalion-esque transformation is an eternal under-current in every man's life. And to help people attain this Holy Grail of personality development is the raison d'etre of the enthusiastic and committed duo of Sarosh and Zen at Greenfields.

A one-of-its-kind experiment in outdoor personality development initiatives, the center borrows its ideologies and methods from the British Out Bound Programs. These programs are designed to help people co-ordinate, co-operate and build a team that is both efficient and responsive. Greenfields conducts Outbound Foundation Courses for various groups of people everyone from families wanting to bond better to teachers, BPO professionals and school students and tries to decipher for us the shadow play between us, our peers and our surroundings. Each aspect they believe needs focused improvement for total development.

All that was quite heavy, wasn't it? While that is what the center really does aim to do, it is not what we have to concern ourselves with. That is an implicit goal. The explicit goal, on the other hand, is to have fun. And fun you do have, loads of it.

Greenfields is all about unhindered fun games, activities and puzzles galore. While the Burma Bridge tests your daring, the Chinese Tangle and the Spider's Web test your strategy and skill, whereas the A Frame tests both

Building trust, making teams and understanding yourselves and your peers that's what Greenfields is all about.